06 November 2018
International creative laboratory «YOUNG CRITICS — FUTURE OF THE THEATER»
International creative laboratory «YOUNG CRITICS — FUTURE OF  THE THEATER», which was began in 2007 at International Theatre Kingfestival, is a creative workshop for young theater specialists-critics. This project is an important part of 15 International Theater Kingfestival, which becomes a special space for the discussion on new performances, meetings with actors and directors of Russian and foreign theaters. Kingfestival features a wide variety of repertoire and innovative directing methods of directors from all over the world.
The Festival gives young critics a chance to learn how to hold open discussion, to create on-line ways of evolution of fairy-tale and mythological repertoire in Russian and foreign theater. Besides, the laboratory gives young critics an experience of communication with foreign theater critics. It is a great opportunity to learn new methods of theater analysis, which helps to learn different critics' styles, make new connections, which are necessary for their professional skills.
A goal of the International creative laboratory is to create for young critics, who are at the beginning of their career, an open space for discussion, and to give young professionals an opportunity to discuss and analyze within the bounds of International Theater Kingfestival. Continuing successful experience received from previous Kingfestivals (from 2007 till 2017), «YOUNG CRITICS — FUTURE OF  THE THEATER» is offering a wide discussion area for Russian and foreign theater professionals. Young specialists, graduated from theater universities often can't work inside big Festival processes. They only gain theoretical knowledge while they study. The only way to gain practical skills of analysis and discussion is to take part in festival process, within the bounds of dialogue with performances creators. «YOUNG CRITICS — FUTURE OF  THE THEATER» can enrich them with important practical experience, create an area for discussion and give them an opportunity to keep in touch with colleagues and theaters.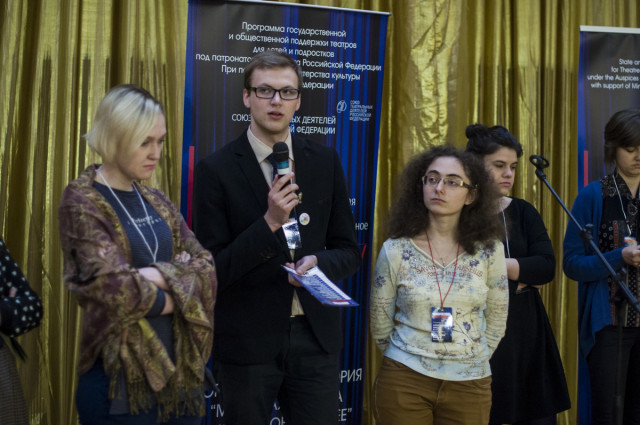 We place great emphasis on the international nature of the new laboratory experience, which is uniting students from different countries (Russia, Latvia, Poland, Finland, Estonia, Lithuania, Austria). Together they are analyzing theater performances of the Kingfestival and discussing the modern theater for youth. It gives International creative laboratory a wide educational range and palette of young critics opinions. Rich traditions of Russian critics school are uniting with the brand new experience of modern theater schools of Europe. They enrich each other and promoting a free point of view on contemporary theater works, which is usually radical.
Unique prize of Kingfestival, which was instituted by young critics, is contributing to it. Young critics prize «Other view» is presented to the most outstanding theater or performance in the judgment of young critics. The skill of generalizing and reducing to a common denominator helps to create one's own creative vision, to learn how to carry on a constructive dialogue and to persist in one's opinion.
Organize Committee of Kingfestival invites young theater specialists-critics to join this project – Kingfestival be able to pay accommodation (hotel*** and meals) to participants of International creative laboratory «YOUNG CRITICS — FUTURE OF  THE THEATER», local transport on festival, provide with free theatrical tickets for all performances of festival, help in visa process. Festival can't pay the fee and per-diem for young critics.
We are waiting brief SV of young critics and readiness to give the full feedback after the project which will be published by Kingestival in magazines or in festival blog.
If you would like to be a part of laboratory, please, send you application form till 1 March, 2019